10 of the world's most sustainable buildings
Regularly, lots of magazines, newspapers and other publicacions specialized in architecture make lists about buildings: the best secured buildings, the best designed buildings, the best *anything* buildings… but why not a compilation of some of the best sustainable buildings all over the world? Let's do it!
We think that sustainability is a very important aspect of the final purpose of the building and the people who works in there. Sounds weird to work, as a company who wants to change the world, in a pollutant or a wasteful space in terms energy efficiency, isn't it? Here we have some examples about the best sustainable buildings.
One Angel Square in Manchester, United Kingdom
This majestic building is the headquarters of the Co-operative Group. Manchester's One Angel Square has 3,000 employees inside, and, not surprising, has been awarded with a lot of environmental prizes. As an example, it's green not only because of the LED lighting system but for the system to recycle waste and rain water!
Sending surplus energy to the grid, it's powered by the Combined Heat and Power (CHP) system, and it is fed with (attention) pure vegetable oil. A very special one: uses grape seed oil that is grown in the Cooperative's own farmland!
One Bryant Park in New York City, United States.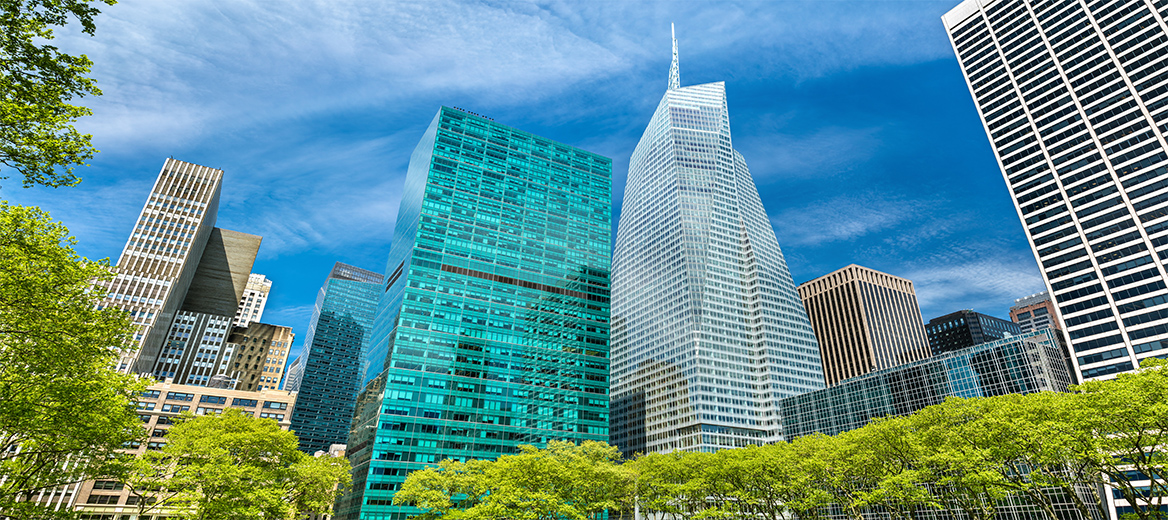 This building is considered one of the world's greenest skyscrapers! Awarded as the first high rise building with the LEED Platinum certification (Leadership in Energy & Environmental Design), has CO2 monitors, waterless urinals and LED lighting. Also (and we love it) also has its own generation plant that produces 4.6 megawatts of green energy!
Shanghai Tower in Shanghai, China
This tower stands more than 630 meters tall. In fact, it's the second-tallest building on the planet (after the Dubai's Burj Khalifa).
This incredible tower has wind turbines in the roof that power its outer lighting and the surrounding park areas. Also, it's almost-transparent walls make the natural light cross all over the building, overruling the need of artificial light :)
Micro Emission Sun-Moon Mansion in Dezhou, China
It looks like a very big sundial… and almost it's true. It's the Sun-Moon Mansion in China, one of the world's largest solar powered structures with more than 50,000 square feet of solar paneling. Tt contains a hotel, offices a conference center… all powered by solar energy!
Museu do Amanhã in Rio de Janeiro, Brasil
This amazing museum, built in the brazilian city of Rio de Janeiro, it's surrounded by lots of green areas. Also, it has two big water tanks, which collect rainwater to reuse it later… for cooling the building!
Also, the top of the building has solar panels. But not the ordinary ones: these ones can change their position during the day to capture the sun's rays!
Manitoba Hydro Place, Winnipeg, Canada
Located in the canadian city of Winnipeg, Manitoba Hydro Place makes use of «passive design and natural ventilation». That's why is one of the North America's most energy efficient buildings. Among other things, this office building has also a geothermal system to heat and cool the building and a roof garden!
Apple Campus 2 in Silicon Valley, USA
Apple CEO Tim Cook is already calling it "the greenest building on the planet": it's Apple Campus 2, the new headquarters of Apple and the last project of Steve Jobs before dying.
It has taken six years to build, but in 2017 it became real. The power of the entire campus is 100% renewable energy: Steve Jobs wanted the Apple Park to resemble a natural refuge more than an office complex and that is why 80% of the land is green areas where trees and xerophilous plants grow in the Cupertino area, while the garden central has a large artificial pond.
Bullitt Centre in Seattle, USA
It's called the greenest commercial center in the world. It uses only about 32 kWh per square meter (the average is 50 kWh). It has a solar rooftop.
The environmentally-conscious Bullitt Foundation, owner of the space, hopes that the center "will demonstrate that carbon-neutral office space can be commercially viable and aesthetically stunning,».
Melbourne Council House 2 in Melbourne, Australia
Built in 2006, Melbourne's Council House 2 building (or CH2) is the first building in Australia to achieve a six star rating from the Green Building Council of Australia.
It has a lot of innovative and technological features: solar panels, efficient roof, blackwater sewage recycling systems, wind-powered turbines…
One of the most astonishing features is the five shower towers that draw air from over 17 meters above street level, in which water droplets evaporate slightly as they use up energy and thus cool the air!
ACROS Building, Fukuoka, Japan
It opened in 1995, but it's still a very good example of a sustainable building. Created a design to preserve the green space as much as possible, while still fitting in a large office building. Also, a green roof reduces the energy consumption of a building, because it keeps the temperature inside more constant and comfortable. Green roofs also capture rainwater runoff, and support the life of insects and birds!
Did you like these examples? Design can be a very powerfull tool to create environmental-friendly spaces!
Do you know other spaces? Share it with us your thoughts and share the article with your friends! A greener future is possible :)
Do you want a greener house becoming a self-consumer? You are in the right place!